Flat Bid Moving
Flat Bid Moving's two owners have over 30 years of experience in the moving industry combined. They started in the moving industry as Packers and Movers; they gathered their extensive knowledge and have become the best in all aspects of the Household Goods Field.
Our Goal
We understand how stressful moving can be, and our goal is to make the moving process as easy as possible for our clients!
Our Specialties
We are a professional residential and commercial moving company based in San Diego, California.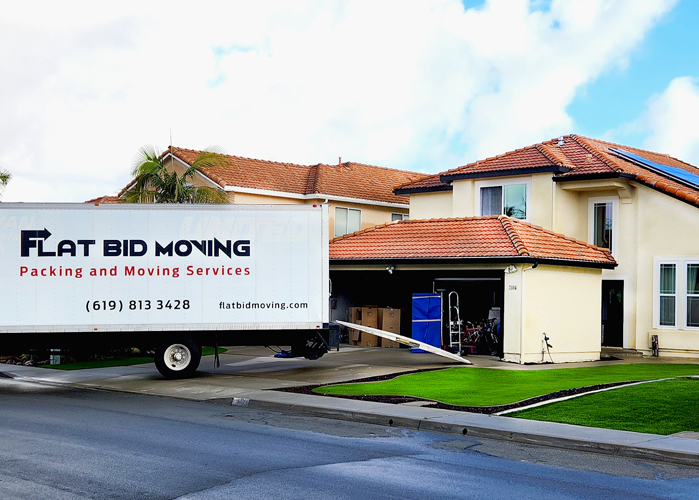 Moving Company San Diego
Moving is a daunting task regardless of your circumstances. Sorting, packing, transporting, and unpacking tons of belongings causes undue stress on the millions of people who do it every year. Hiring a full-service moving company San Diego to help with your transition can take the load off your shoulders and give you more time to deal with the many changes that come with starting a new chapter.
Flat Bid Moving is a full-service moving company San Diego that specializes in fast, efficient, attentive moving. We help with every facet of the moving process from start to finish! Our skilled team will pack up your belongings in a way that keeps them organized and secure, even creating custom crates for your more fragile or valuable items. Then we'll transport everything safely to your final destination and unpack your possessions, placing each item where it belongs.
With a moving company San Diego like Flat Bid Moving, you don't have to worry about your items getting damaged or leaving something behind. We're here to make your life easier and reduce your stress so you can say goodbye to your old home and enjoy the transition to your new one!
Why Use a Moving Company San Diego?
Whether you live in a studio apartment or a 12 bedroom mansion, just looking at all your possessions can make the project seem overwhelming. Hiring a moving company San Diego saves you time and headaches.
With expert movers taking care of the process, everything will be packed up and delivered safely in no time! Our years of experience have taught us the most efficient and effective ways to pack up items and furniture while ensuring they remain secure and intact. Instead of taking days to box up all your belongings after work and stressing over remembering where you put things, let our professionals take care of it for you!
We have experience moving items of all different shapes and sizes. We even offer our clients custom crates created specifically to keep their more valuable or more fragile belongings safe during transit. From large appliances like refrigerators and stoves to small knick-knacks and precious heirlooms, our moving company San Diego has got you covered!
There's no need to risk damaging your favorite items by calling up old friends to help carry boxes when our professionals can ensure your electronics, equipment, and artwork are kept safe. Plus, if you don't have many folks to assist you, a moving company San Diego is the ideal solution. Don't throw out your back by moving heavy items or harm your health with unnecessary stress. We offer efficient, affordable, and considerate moving services that will take care of all the hassles and leave you feeling right at home in your new residence.
What Services Does Flat Bid Moving Offer?
We offer moving services for both residential and commercial moves. Whether you're changing apartments, buying a new home, or switching offices, you'll be floored by our unmatched care and professionalism and our extensive moving expertise. If you're considering hiring Flat Bid Moving as your full-service moving company San Diego, check out the services we offer below:
What's Included
Our professionals can handle any move in California. Regardless of where you're moving or how much stuff you have, our moving service comes with:
Loaners Wardrobe Boxes for hanging clothes
Clean moving pads for furniture protection
Flooring protection
Assembly and Disassembly of furniture
Shrink wrap
Tape
Furniture carts and hand dollies
NO HIDDEN FEES
OUR SERVICES
Relax and let our team of dedicated moving specialists help you prepare for a hassle free move. That's why we are ranked the best moving company in San Diego.

Our professional movers can handle any moving locally and long-distance. All moves will come with Loaners Wardrobe Boxes for hanging clothes.

We provide safe and secure long-term and short-term storage options for residential clients.

The task of packing your personal or business belongings can feel overwhelming. Fortunately, Flat Bid Moving is here to turn this challenging job into a stress-free experience for you with our professional packing services.
REQUEST A QUICK QUOTE!
Contact us today to get an estimate for your move within 24 hours.
Are your movers employees?
Yes, our movers are employees. We are licensed and insured.
Do you disassemble and assemble furniture?
Yes, our expert movers will disassemble and assemble household furniture.
What types of payments are accepted?
We accept cash and credit cards, and we do not charge a credit card fee.
Do you have a minimum cost?
We have a minimum cost of $330.00 for moving services
Do you offer in home estimates?
Yes, we offer free in home estimates! Contact us through one of our online contact forms or call (619) 813-3428.